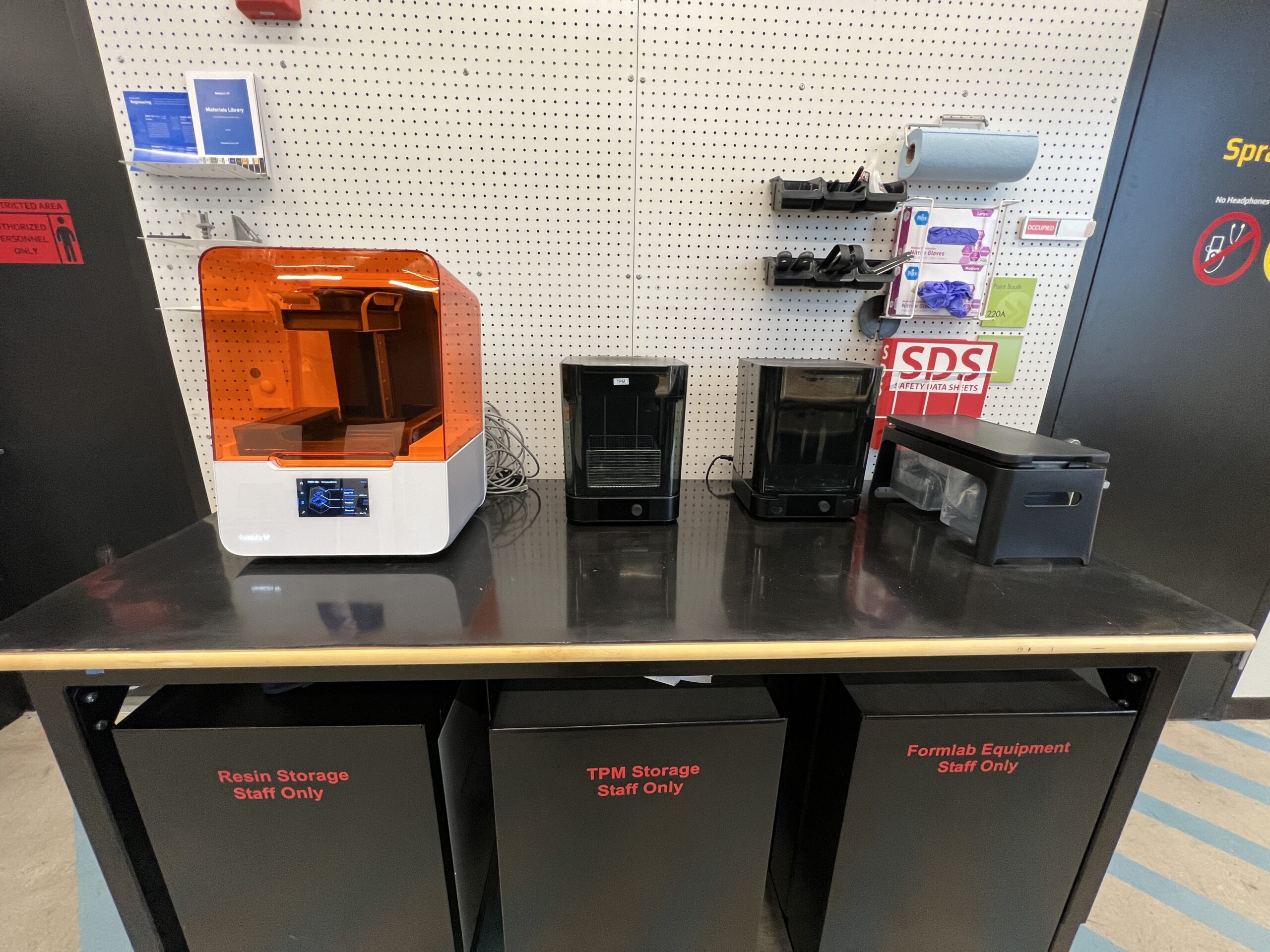 Training and usage for the SLA Printer must be scheduled individually using the button at the top of the page.
Please keep in mind that tool reservations can only be made at least 2 weeks in advance.
We have a Form 3B+, Wash and Cure station, and three different resins available. An equal amount of resin is allotted to each Makerspace user every semester. Due to the material costs, resin usage is limited to original designs only.
What is SLA Printing?
Stereolithography (SLA) 3D printing has become vastly popular for its ability to produce high-accuracy, isotropic, watertight parts in various advanced materials with fine features and smooth surface finish. You can follow this link to learn how SLA technologies work, why thousands of professionals use this process today, and what you need to know to explore how SLA 3D printing can benefit your work.
Form 3B+
The Form 3B+ utilizes a SLA printing process called Low Force Stereolithography, delivering precise, unmatched surface finish and print accuracy across multiple applications. The Form 3B+ is large enough to print several surgical instruments and medical devices. With a compact footprint, and nimble scale capacity. Over 70M medical devices were printed on Formlabs SLA printers in 2020 alone.
Build Volume (W x D x H): 5.7″ x 5.7″ x 7.3″
XY Resolution: 25 microns
Laser Spot Size: 85 microns
Laser Power: One 250 mW laser
Layer Thickness: 25-300 microns (.001 -.012 in)
Biocompatible: Yes (this resin is not provided by the Makerspace)
Postprocessing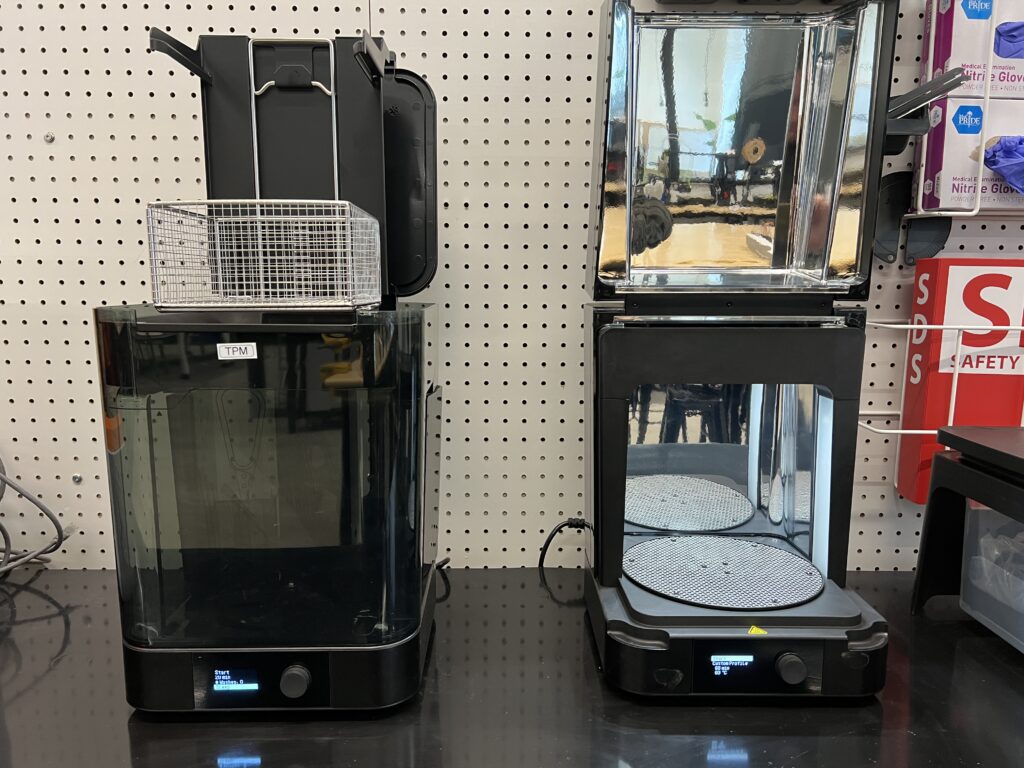 For almost any 3D printing technology, post-processing adds time and limits throughput. Formlabs post-processing solutions simplify and automate post-processing so you can consistently produce quality results with less time and effort. The Form Wash (left) and the Form cure (right) help bring your part to its maximum mechanical properties.
The Makerspace uses TPM solvent ONLY for post-processing resin parts.
PreForm Software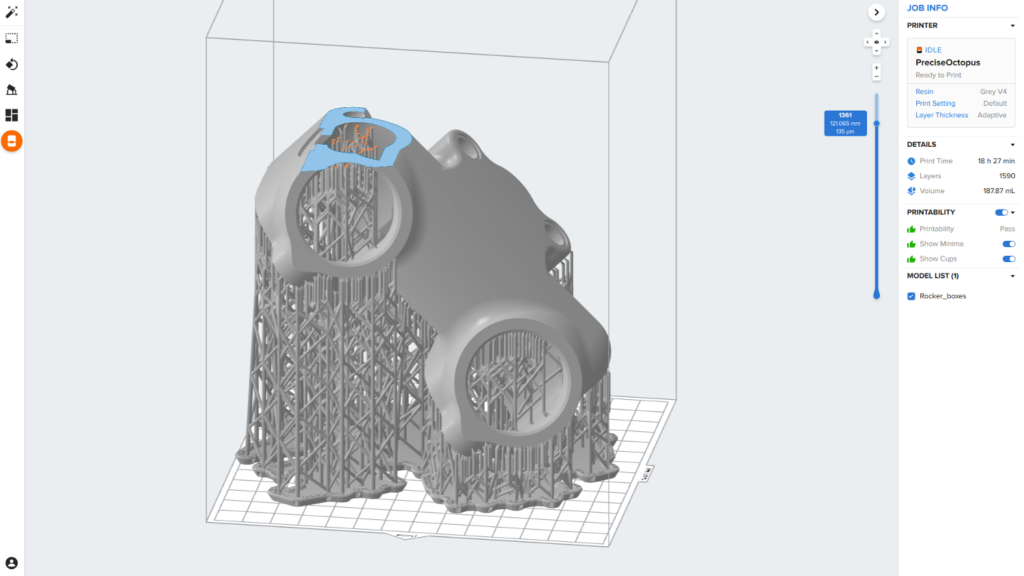 Design your model in standard CAD software, then import the STL or OBJ file into our print preparation software, PreForm. Prepare your model for printing in minutes, upload to your printer, and let it build. PreForm's automatic algorithms set up your print's layout, orientation, and supports, so anyone on your team can print successfully without specialized training.
Resin Usage
While the Form 3B+ is compatible with a wide variety of resin, the Makerspace provides a limited stock of resin and the corresponding resin tank for all users. An equal amount of resin is allotted to each Makerspace user every semester. Due to the material costs, resin usage is limited to original designs.
Currently available resin: Draft V2 Resin, Grey Resin, Clear Resin, Tough 2000, Flexible 80A
To use a resin outside of what the Makerspace provides, users need to provide the Formlabs resin cartridge and a Form 3B+ compatible tank. Please contact the Makerspace Manager for more details.
This tool is available by appointment only.